f.o.t.n
but before I post pictures....
lemme just say this....
if your significant other of a substantial period of time....tells you he/she never plans on marrying you...
(and you plan on getting or want to get married
)....you should seriously consider leaving them...
I mean I know a lot of people don't believe in marriage...but I swear if some dude I was with for like years told me he didn't ever
ever
plan on marrying me....
or at least asking me...
I'd be single the next day....
and no I wouldn't do it as some type of ultimatum type jazz...
I'd do cause I realized that our beliefs don't match....lol...
I'm just saying...



anyway, I entered a makeup challenge on myspace....
the theme was
DAZZLING
Blue
...
So here are the pics....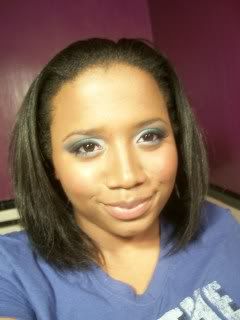 Face
Maybelline Coversitck-Deeper Beige
Maybelline NonStop Foundation-Cocoa
CoverGirl Outlast Pressed Powder-Translucent Sable
Milani Bronzer-#2 Medium
CoverGirl Cheekers Blush-Deep Rose, Golden Bronze
Ulta Bronzer(highlight)
Eyes
Styli-Style L3 Shadow Base
Milani Denim Blues Quad-Inner Corner, Lower Inner Corner, Crease
Milani Atlantis-Main Lid Color
NYX Morroco-Crease
Hard Candy Disco 2000-Crease
Hard Candy Butterscotch, Snow Cone(mixed)-Highlight
Ardell Lashes #105
Lips
Maybelline LipStick-Wine and Roses #180
Clear Gloss