Styli-Style L3 Shadow Base Review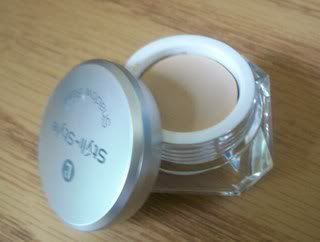 So, I've had my Styli-Style L3 Shadow Base for like 3 months now...
And I've come to the conclusion that I love it....
Product:
4 out of 5
Packaging:
4 out of 5
Quality:
4 out of 5
Overall:
4 out of 5
Price:
$8.50 @
CherryCulture.com
Would I buy again?
Yes
What does Styli-Style say about their base?
Imparts a luminous glow and sheen to eyes with an opalescent shimmer.

Ensure long-wear glamorous colour.
Pros:
Very good base, a little sticky and totally clings on to the eyeshadow. Reasonably Priced. No heavy shimmer in the product like other paints and creamy bases (shimmer is barely noticeable).Allows for easy blending of colors. Easily removed with soap and water. A little goes a long way.

Cons:
Very white in color. Sometimes hard to blend out(the product itself, not the shadows). Too much product will result in creasing of eyeshadow. It comes in a screw-top container (Yeah, I know it sounds silly but it would be so much better without the screw-top).
My Experience:
Overall, I love this base. When I first got it I was a little iffy about it because of the white color it has and the consistency of the base in general. After playing around with it for awhile I began to understand the amount needed for minimal to no creasing, and found that this base is best applied with a synthetic brush. This base is good in that it really makes colors pop, even the cheapest of shadows have to bow down to this base. It doesn't dry out your eyelids (like UDPP sometimes does to mine), and it was half the price.
A lot of my more recent looks have this product as a base...
for more info about this base and other Styli-Style products check out
Styli-Style
CherryCulture