Like Normal People...
So instead of being like normal people and sleeping or chatting on the phone or watching tv...I play in the makeup....
so yeah..here are like the pics....
and I only did one eye!(no foundation or anything... my pure unadulterated face)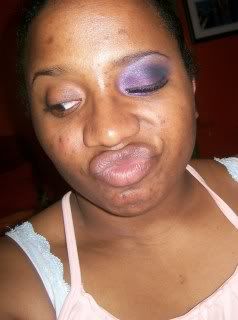 Go on with your day...
"wit'cho fine selves"
I used
Dark purple AQ-MehronAQ Pastel Palette(Base)
Milani Wild Violets Quad-Bottom Right Purple on Lid, Bottom Left Purple in Inner Corner, Top Right Purple from Crease almost to highlight
Ben Nye Cosmic Blue-Crease
Urban Decay Oil Slick-Crease
Urban Decay Polyester Bride-Highlight